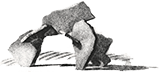 Art The Collection at Seven Stones
Beginning in the mid-1980s, Ron Wornick, an accomplished woodworker in his own right, along with his wife Anita, began actively collecting master artisan pieces made from wood, ceramics, glass, fiber, and metal.
Within 20 years, the Wornicks had created one of the premier contemporary craft collections in the world. The collection has been on view at the Museum of Fine Art in Boston, American Craft Museum in New York, the Oakland Museum of California, and the McAllen Museum in South Texas. Ronald Wornick has been a member of the California College of the Arts Board of Trustees since 1992 and founded the Wornick Award, intended to recognize, nourish, and encourage talented students in the wood arts at CCA.
Seven Stones Richard Deutsch, 1999
Desert Dreamer David L. Phelps, 1998
Jill Glenna Goodacre, 1986
Man with Jar Viola Frey, 1999
Wind Note Dan Haynie, 2008