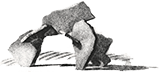 Visit Seven Stones Winery
Thank you for your interest in visiting Seven Stones. Due to the very small size of our production and the fact it is the owner's residence, Seven Stones is a very private estate that is only able to accommodate a limited number of visitors per year.
During the tour and tasting, which takes just over an hour, you will have the opportunity to see the estate, the vineyards and many of the outdoor sculptures that make up a part of the Wornick's extensive Conceptual Craft Art Collection. You will also see the entire production facility and learn of the care and attention to detail that goes into each bottle of Seven Stones. At Seven Stones we only produce between 400-500 cases of a single Cabernet Sauvignon which gets released annually to our allocation list at $210 per bottle. Visitors to the property will be able to taste the current vintage in our comfortable tasting salon overlooking the Napa Valley. We do not charge for the tasting experience, however, if you enjoy the wine you are tasting we do extend the opportunity to join our allocation list and we hope for a minimum of a 3 bottle purchase. If this sounds like the Napa experience you are looking for please contact us.